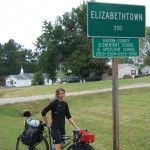 Please join us for the May CBBC meeting! Our guest will be Elizabeth Jose, who recently completed a cross-country bike trip.
"4,736 miles, 11,312 feet of elevation, 83 days, 60 pounds of gear, 23 strangers' lawns/basements/guest rooms or garages, 20 church basements, 3 snow storms, 2 flat tires (one front, one back), and more than a whole lot of adventures. I'll be sharing stories from my self‑supported bike trip across the country August-October 2008.  Please come with questions!"
The regular board meeting will begin at 6:00 PM, followed by Elizabeth's presentation at 7:00 PM, at MMC Dana Center.