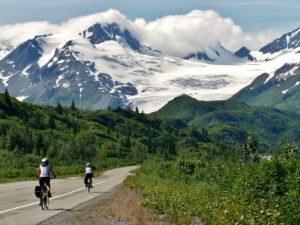 We have the honor of having Greg Rowland from AlaskaBike come to our meeting on Monday, January 8, 2018 to give a slideshow presentation and talk about his company's bicycle tours in Alaska. His talk will cover Alaskan history, cycling, their bicycle tours, and a few things that make them different from big corporate giants in the tourism industry.
Greg's talk will start at 6 PM and last for about 45 minutes followed by a question and answer session. We will have
our club meeting afterwards. All are welcome to come to his presentation. You may stay for our meeting too if you like. The location is at the Yarmouth Community House, 179 East Main Street, Yarmouth (same location as our annual meeting). If you want to learn more about AlaskaBike check out their website at http://www.alaskabike.com.
CBBC Board Meeting (w/Greg Rowland from AlaskaBike)
Monday, January 8, 2018, 6 PM
179 East Main St, Yarmouth
CBBC board meetings are held every 2nd Monday at 6 PM at the Yarmouth Community House, 179 East Main St in Yarmouth, and are open to all members.