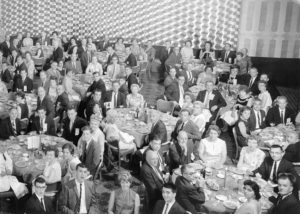 Here's a great way to beat the winter doldrums:  come to the CBBC annual winter banquet on Saturday, February 25th, 2017 at the First Parish Congregational Church in Gorham.   We'll be following our usual potluck format with beverages provided by the club.
Gather at

5:00

 
Eat at

6:00

Program to follow dinner  
I'll also share here a summary of the "Dream Ride"  cards that many of you filled out at our Holiday Party in December.  Patty asked you to describe your "dream ride," along with your ideas about how it should be organized, and how you might be willing to help.   The responses were great – you collectively have a lot of great ideas!
Several themes emerged:
Europe theme, especially Tuscany and the Netherlands:  13
Downeast Maine / PEI / Nova Scotia:  9
Western Mass/Berkshires/Kripalu yoga: 2
Other: 8 (no two the same)
We thought it would be nice to build on these themes at the winter banquet.  We'll have some signs on the tables, and invite you to share dinner with others who share your interest.  In other words, we'll have a Europe/Tuscany/Netherlands table, a Downeast/PEI/Nova Scotia table, and probably an "other" table.  Of course you can (and will) talk about whatever you want, but if you're seated with like-minded cyclists, who knows what plans may emerge?
Following dinner, Andy has graciously offered to open our program with an overview of the RideWithGPS mapping software that many of us the club use to plan routes.   Following Andy's presentation, let's just say we have some SURPRISES in store!
See you on the 25th!
Crop of 20th Annual Reunion Banquet, 9th Infantry Division Association by Joseph Mann is licensed under CC BY-NC 2.0.